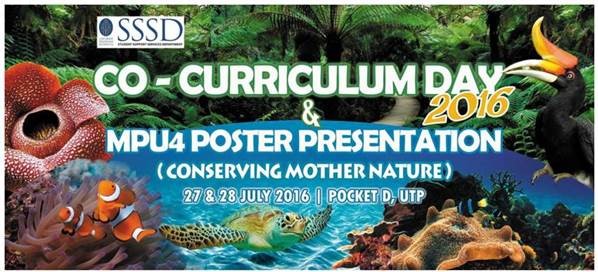 Compulsory attendance to all students related to this exhibition. Click here for MPU4 Poster Presentation schedule. Attendance is compulsory for all credited Co-Curriculum students and MPU4 students for this following event: 
Event Highlights :

27 th  : July 2016 (Wednesday)
Up-close session with invited exhibitors
11.15 am           :          1M4u (Introduction & get together session with students)
12.30 noon        :           Ocean Quest (Coral propagation and marine life protection)           
28 th  : July 2016 (Thursday
10.30 am           :           UTP Co-Curriculum Day 2016 Closing Ceremony by Deputy Vice Chancellor Student Affairs 
                                    & Alumni ( Dr. Nor Hisham Hamid)
Showcase 1 :
                                                                        UPAG – UTP Performing Arts Group
                                                                        Gamelan II students' performance ( Timang burung & Inang Cina)                         
                         11.30 am          :                       Showcase 2 :
                                                                        Caklempong (Selamat Hari Raya & Cinta Sayang)
                                                                                             Interbeatz (dance performance)
                                                                        Gamelan I students' performance ( Dikir Puteri)
Students for Credited Co-Curriculum (May Semester 2016) group that will be involved during this exhibition as per courses. Attendance compulsory:
Note : Students must bring their own stationary to post the presentation material on the panels provided.
GAMELAN I & II  DRAMA & THEATRE I & II SPORT SCIENCE
BADMINTON TABLE TENNIS SOCCER VOLLEYBALL
ENTREPRENEURSHIP RECREATION & ADVENTURE I 
PEER GROUP COUNSELING
PHOTOGRAPHY
Thank you.
 - Student Support Services Department (Co-Curriculum Unit)-