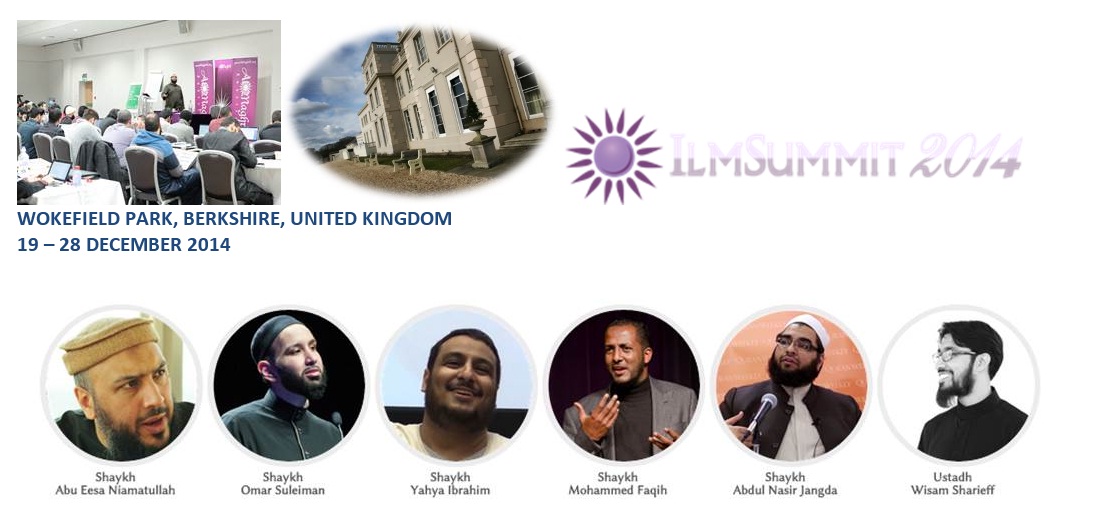 AN OPPORTUNITY TO LEARN FROM SCHOLARS IN BRITAIN
We are looking for the right candidate among the UTP students to attend a 10-day ILMSUMMIT 2014 in United Kingdom in December 2014. All expenses will be under the sponsorship An-Nur  Islamic Centre. Candidates who are interested to be selected for this programme must meet the following requirements:
 1.     Malaysian citizen
2.     Current CGPA of at least 3.0
3.     Shall be able to show proof of availability to attend without overlapping commitment with the current academic matters or schedule, or able to get exemption from his/her respective programme dean/head of department;
4.     Having strong basics of Islamic knowledge to be able to comprehend the programme content;
 Active in campus dakwah programme and able to demonstrate leadership quality;
Readiness to assist in organizing future dakwah programmeorganized by An-Nur Islamic Centre;
No disciplinary records along his/her study in UTP;
 To apply please write an application letter to us with the following details :
--------------------------------------------------------------------------------------------------------------
Applicant's Name :
Malaysian IC No :
Matric No.            :
Programme / Year / Sem :
Latest CGPA :
Significant involvement in campus dakwah activities:
Write a short essay of not more than 200 words on "Why I deserve to be selected for ILMSUMMIT 2014."
-------------------------------------------------------------------------------------------------------------------------------------------
Closing date : 5 Nov 2014
Shortlisted candidates will be notified and interviewed between 10th and 12th  Nov 2014.
Sent you letters through email or fax to
Ustaz Rahmat bin Abu Seman
Manager, An-Nur Islamic Centre,
Universiti Teknologi PETRONAS,
Bandar Seri Iskandar,
31750 Tronoh, Perak, Malaysia
Fax No : 05 3688505
Email : rahmat_abuseman@petronas.com.my
Profile of the trainers :
Shaykh Abu Eesa Niamatullah
Shaykh Abu Eesa has chosen what he calls his "favourite book ever by his favourite scholar ever" – the incredible Fath'l-Bari by the great Imam Ibn Hajr al-'Asqalani (rahimahullah). There will be quite the Bukhari theme throughout Ilmsummit 2014 this year and it kicks off with this detailed explanation of Imam al-Bukhari's wonderful book "Kitab'l-'Ilm" ("The Book Of Knowledge") which is the third book of his magnum opus Sahih'l-Bukhari.
Using Imam Ibn Hajr's commentary to Kitab'l-'Ilm, expect a fascinating insight into the principles of hadith, the biographies of the hadith narrators most of whom you've never come across before, the chance to recite actual hadith and interact with their variations in real time both in class and in private sessions later, and extrapolating detailed legal and spiritual lessons relevant to our current time from what is one of the most important chapters in Imam al-Bukhari's collection.
Shaykh Abu Eesa Niamatullah born in London, England, he tracks his roots to the NaserKheil tribe of the North West Frontier in Pakistan. He studied both Pharmacy at the University of Manchester and then Anthropology, and then later studied Arabic, Islamic Law and the Qur'an with its memorisation from scholars in a diverse array of locations. Shaykh Muhammad Salim 'Abdul Wadud al-Shanqiti (rahimullah), Mufti Taqi al-Usmani, Shaykh Abdullah al-Judai' and Shaykh Kehlan al-Jubury count from amongst his many teachers, leading to a real variety of experiences and depth in the Islamic Sciences which are so famously expressed in Shaykh AE's multi-dimensional da'wah and teachings.
Shaykh Omar Suleiman
Shaykh Omar Suleiman in his first ever Ilmsummit will continue flying the Bukhari flag. Playing to his strengths, Shaykh Omar will be teaching the commentary to the book known as "Kitab'l-Riqaq" ("The Book of Heart-Softeners") taken from the magnificent Sahih'l-Bukhari. By expounding on some of the most spiritual hadith in our tradition, and indeed the most authentic as per the grading of Imam al-Bukhari (rahimahullah), Shaykh Omar will bring forth practical examples of how we can incorporate core ideals which remind us of the Divine, and allow us to transform our hearts into those of taqwa-filled vessels. Expect a deep academic and spiritual analysis, a study of not just the texts but other technical secrets too which will please all students of knowledge.

Shaykh Omar will also be conducting a number of Tarbiyyah, Wild Card and workshop sessions for both brothers and sisters on different days. Along with the opportunity to spend time picking the brain of one of our youngest scholars who has his finger on the pulse, we are sure you will be benefit immensely from his presence. 

Shaykh Omar Suleiman is the young evergreen scholar with the big smile. Born and raised in Louisiana, he has a unique way of relating to a western audience through his character, and has gained the love of people of all ages and backgrounds. As an AlMaghrib instructor, he teaches the hugely popular "Behind the Scenes" seminar which focuses on the strengthening of the soul and disciplining the nafs
Shaykh Yahya Ibrahim
Shaykh Yahya Ibrahim returns again this year after a very short but impactful visit in last year's Ilmsummit 2013. This time round, Shaykh Yahya will be giving us significant time as he teaches the book Usul'l-Sunnah which is attributed to the great Imam Ahmad Ibn Hanbal (rahimahullah). This book is a very beneficial and complete exposition of what Sunni Islam is based upon, the methodology of Ahl'l-Sunnah and the establishing of our core beliefs by which we protect ourselves in a confusing world, and by which we ensure that we enter into the After life with the Pleasure of Allah. At a time where faith and creed is so denigrated, we have the luxury of being able to fully grasp the fundamental precepts required as part of 'aqidah. A fascinating book in the hands of a very experienced and well qualified teacher, this core session promises to be excellent.
Shaykh Yahya will also be conducting a specific Sister's Workshop which is not to be missed!
Shaykh Yahya Ibrahim is of Egyptian descent, and Canadian by birth. Raised in a practising household, he memorised the Qur'an in his teens and has been involved in the da'wah for over 20 years.
Shaykh Mohammed Faqih

Shaykh Mohammed Faqih will be teaching us lessons from the Tafsir of Surat'l-Hujurat in our Tarbiyyah Sessions with a specific emphasis on principles to help improve our collective conduct. As for Shaykh Mohammed's core sessions throughout Ilmsummit, we are delighted to announce our relationship with Imam al-Bukhari's masterpiece al-Adab al-Mufrad continues! Utilising his specialisation in the Sciences of Adab, he will be covering the previously untaught commentary on the section of Interaction Between The Believers which is a comprehensive look at all aspects of behaviour and presentation which so desperately needs reviving today.

The Shaykh will also be conducting workshops as well as Qur'anic recitation lessons for the advanced students in the group. Along with one-to-one counselling sessions pulling on all of his skill as a long-time experienced Imam, and his training sessions on how to recite some of the most touching nasheeds you will hear, Shaykh Mohammed is already setting himself up to be the powerhouse superstar of Ilmsummit 2014! 

Shaykh Mohammed Faqih is the doctor of etiquettes and mannerisms. His style in fashion and stride in walk makes you say: "that man's fit to be president". Shaykh Mohammed has melted the hearts with lessons in tazkiya, akhlaq, and even self-discovery and psychology.

Shaykh Mohammed traces his roots back to the ancient city of Harar in the Horn of Africa. Originally from Yemen, his forefathers immigrated to East Africa and played a central role in the Islamic history of the region.
Shaykh Abdul Nasir Jangda

Shaykh Abdul Nasir Jangda simply went down a storm at Ilmsummit 2013 where the students were exposed to a wonderfully balanced core session of Qur'anic Tafsir. 

Back by popular demand, the Shaykh will again be sharing Qur'anic gems and wisdoms during his Tafsir sessions in this year's Ilmsummit 2014 as well as joining us for some out-of-the-box wild card sessions which we are sure everyone will love!

Shaykh Abdul Nasir Jangda was born and raised in Dallas, Texas and at the age of 10 began the road to knowledge by moving to Karachi, Pakistan, and memorizing the entire Qur'an in less than one year.

After graduating from High School, he continued his studies abroad at the renowned Jamia Binoria and graduated from its demanding seven year program in 2002 at the top of his class with numerous licenses to teach in various Islamic Sciences. 

He has served as an instructor and curriculum advisor to various Islamic schools and Islamic studies programs including Bayyinah Institute and the Qalam Seminary. His light-hearted nature and southern warmth make him one of the most sought-after speakers on the international scene.
Ustadh Wisam Sharieff

Ustadh Wisam Sharieff is a veteran of Ilmsummits throughout its run in Houston but this is his first appearance in the UK and we are very excited knowing exactly what kind of energy he brings to his Qur'anic literacy and Tajweed sessions that will be conducted daily throughout our stay.

Group sessions, academic sessions, reciting one-on-one in private sessions, Ustadh Wisam will be dedicating all his skill and experience into ensuring that whatever level of Qur'an you entered Ilmsummit with, you will leave bigger, better and more in love with the Book of Allah. 

Ustadh Wisam will be available at all times, will correct your recitation, ensure all mistakes are exposed and a practical plan is implemented that has immediate results there and then can be continued upon your return as all students of knowledge should be planning to do. The dynamism and passion of Ustadh Wisam is addictive and we are sure you will be hooked!